Live Auction: Retail Building (4117 Expressway 83) in McAllen, TX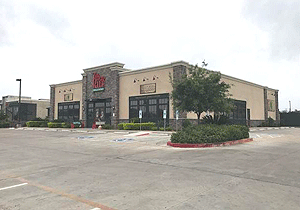 Retail Building in McAllen, Texas
6,646 ± sq. ft. retail building with covered patio and parking lot on 1.3 ± acres. Currently leased by a restaurant with rental income.
COMMERCIAL PROPERTY Per the stated Terms of Sale, this property is sold AS IS WHERE IS WITH ALL FAULTS including any building violations for the building as a whole that may apply (including but not limited to fines and penalties). Commercial property for auction. This property has a bar area, kitchen area, 2 patron restrooms, 1 employee restroom, 8 x 20 walk-in cooler, an 8 x 24 dual compartment walk-in freezer, a CaptiveAire exhaust system, 580 ± sq. ft. patio, 25,200 ± sq. ft. parking lot, and much more! Note: The current tenant has the right of first refusal. The tenant has 20 business days to excercise the right. The closing date will be modified for this accommodation. Click here to view the lease.
Click here to download the flyer for this property.
Questions about the sale/property: Email us at realproperty@cwsams.com or call 703 273-7373.