Online Auction: Condo Unit, 2403 W. 76th St, Unit 205, Hialeah, FL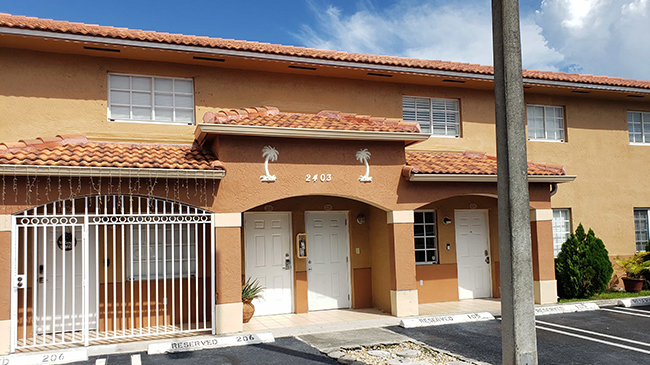 Condo Unit in Hialeah, Florida
1,271 ± sq. ft. 2nd level condo unit in the West Palms villas with open parking. The vacant unit has 3 bedrooms, 2 baths, laundry, and covered balcony.
CONDO UNIT   1,271 ± sq. ft. 2nd level condo unit with 3 bedrooms, 2 baths, kitchen, living room, laundry, and balcony. Located in the West Palm Villas community with assigned parking. Note: The buyer must complete an application, with fee, and be approved by the condo association board. Condo documents can be viewed online.  Per the stated Terms of Sale, this property is sold AS IS WHERE IS WITH ALL FAULTS including any building violations for the property as a whole that may apply (including but not limited to fines and penalties).  Clear Title will be transferred via a Government Deed.
Utilities: Electricity, Water, Sewer
Year Built: 1996
Zoning: R-3-3/Multi Family Low Density
Floor Plan: View Floor Plan
2021 County Taxes: $4,157.62 ±
Parcel No: 04-2027-079-0100
Starting Bid: $80,000
Bid Increment: $500
Sale #: 24-66-811
Sat-Sun, October 28 and 29, 1-4 pm by appointment only.
Bid Deposit: $20,000
Submit the Bid Deposit Form and mail in your deposit of $20,000 in the form of a cashier's check payable to CWS Marketing Group. Deposit is due by November 2, 2023 at 5PM ET.
You will receive a confirmation email once your deposit is received and registration is approved.